As all in the legal profession will know the expansion of fixed recoverable costs has been on the cards since Sir Rupert Jackson's 2017 report and subsequent consultation paper in 2019.
Although fixed recoverable costs have operated in most low value personal injury cases the MOJ have now announced that they will be introduced for most civil cases worth up to £25,000.00 in the fast track and in most money cases worth up to £100,000.00.
More specifically this includes:
Extending fixed recoverable costs to all fast track cases (of up to £25,000.00 in damages) in the county court.
The expansion of the fast track to include certain types of 'intermediate' civil case valued between £25,000.00 to £100,000.00.
Cases involving mesothelioma/asbestos, complex PI and professional negligence, actions against the police, child sexual abuse, and intellectual property will be excluded from the 'intermediate' classification.
The MOJ are also looking to implement the Civil Justice Council's plan to introduce fixed recoverable costs in noise-induced hearing loss cases as well as introducing costs management in judicial review cases where a party's costs exceed £100,000.00.
Extension of the existing fast track
All civil fast track cases up to a value of £25,000.00 will be allocated to one of four bands of complexity. Those bands are:
Band 1: RTA non-PI (bent metal claims) and credit hire
Band 2: RTA PI (within the Pre-Action Protocol) holiday sickness claims
Band 3: RTA PI claim (outside the Pre-Action Protocol) EL / PL accident claims
Band 4: Employers Liability disease (non-NIHL) and the most complex fast track claims
It is open for a party to challenge the banding of a claim however, a costs liability of £150 will apply if that challenge proves unsuccessful.
The 'escape clause' contained within CPR 45.29J "enabling a party to exit FRC in the fast track in exceptional circumstances" will continue to apply.
The government will implement an uplift of 35% on FRC where Part 36 offers are beaten, while there will also be a 50% uplift on fixed costs where one party has engaged in 'unreasonable behaviour'.
Counsel's fees will be ring-fenced in respect of Band 4 and NIHL claims.
Intermediate cases
The fast track and FRC will be extended to include 'intermediate' cases valued between £25,000 and £100,000.
The proposed criteria for allocation of intermediate cases is contained in the Fixed Recoverable Costs Consultation Paper at page 30.
Certain case types have been identified as being unsuitable, specifically cases involving mesothelioma/asbestos, complex PI and professional negligence, actions against the police, child sexual abuse, and intellectual property.
Regarding the proposed banding criteria, the four bands proposed by Lord Justice Jackson are to be retained as follows:
Band 1: the simplest claims that are just over the current fast track limit, where there is only one issue and the trial will likely take a day or less, e.g. debt claims
Band 2: will be the 'normal' band for intermediate cases, with more complex claims going into Band 3
Band 3: will be the 'normal' band for those complex intermediate cases
Band 4: the most complex claims, with claims such as business disputes and ELD claims where the trial is likely to last three days and there are serious issues of fact/law to be considered
Similar to the expanded fast track, any unsuccessful challenge to 'intermediate' allocation will incur a costs liability of £300. However, a challenge to band allocation "without sufficient basis could amount to unreasonable behaviour, incurring further costs penalties".
Fast Track and intermediate track fixed costs proposals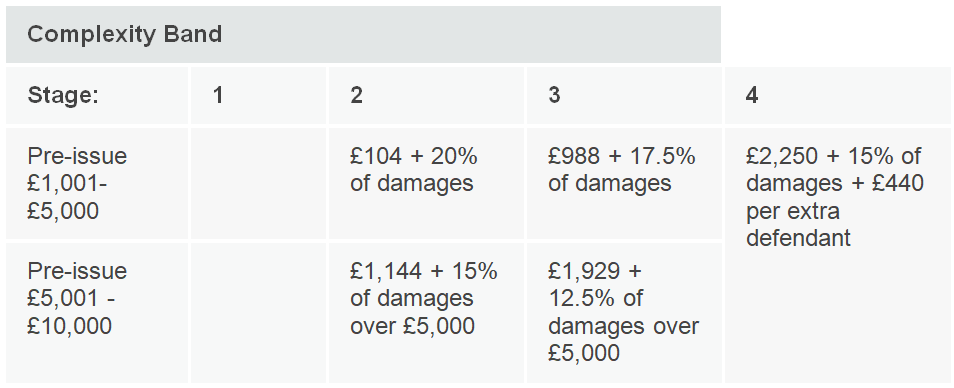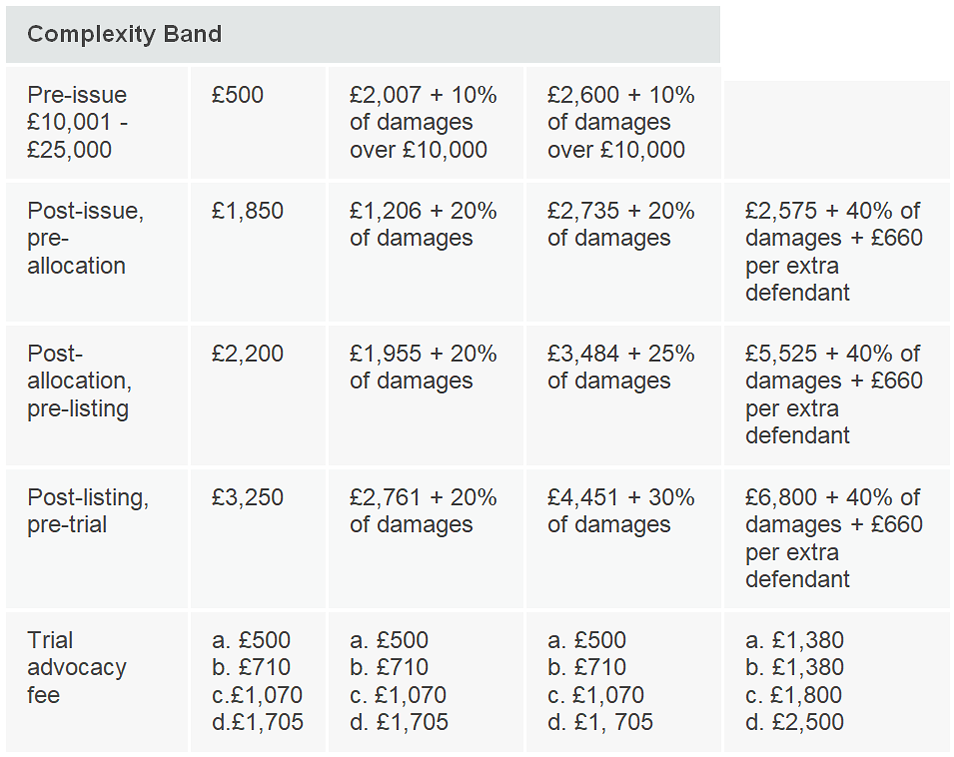 Industry response
Industry experts have voiced concerns regarding the introduction of fixed recoverable costs on the basis that cases under £10,000.00 should not be considered simple.
Neil McKinley, president of the Association of Personal Injury Lawyers, said the proposals missed the point that most PI cases are complex and cannot simply be 'shoe-horned' into a simpler system for which they are not compatible.
He said: 'Employers' liability disease claims, for example, can be incredibly complex, as can product liability claims, yet both categories of claim are to be included in this new system. The Ministry of Justice has also provided little detail about how this will work, leaving it to 'the parties and judges' to work that out. That will take time and, until we get clarity on these matters, injured people will be subjected to a great deal of uncertainty at a time when they are very vulnerable.'
The Law Society of England and Wales have also made their position clear stating that they do not support the extension of FRC's in civil litigation under the current proposals and that these proposal pose a substantial risk to access to justice.
In their press release the Law Society responded to the proposals by saying;
"The vulnerable and the less well-off would too often be unable to seek redress if fixed recoverable costs were extended to cover cases valued up to £100,000. If the government caps the amount of reasonable costs a claimant can recover then – without safeguards – a deep-pocketed and unscrupulous party could force their opponent to run up legal bills they'll never recover. This could seriously damage the justice system leaving claimants unable to obtain effective remedy or vindicated defendants out of pocket through no fault of their own"
"Furthermore, we cannot support the proposals because there are not enough data supporting them and the proposed regime is very sketchy about how it would be applied. The data that has been used are both out of date and drawn from too narrow a pool of cases, given changes would apply across almost the entire spectrum of civil litigation."
"The legal profession would need greater clarity on how the regime would be applied, with a long lead-time to enable solicitors to adapt to what looks to be significant change."
"A regime to limit the recoverable costs of civil litigation will need to be carefully calibrated based on present realities if it is to be fair to everyone engaged in a claim."
Our comment
It seems clear the following the announcement made by the MOJ on 6th September 2021 plans to press ahead with the fixed costs expansion with the new reforms will be implemented over the coming year.
However, some in the profession have expressed concerns over the new regime describing it as being detrimental to clients, lawyers and access to justice.
The number and variety of cases we arrange cover for is always increasing and so please contact us to discuss any after the event insurance requirements. We are happy to discuss and develop ATE insurance for case types we do not already insure.
If you would like to speak to us or obtain further information then please call on 0870 766 997, or email info@boxlegal.co.uk